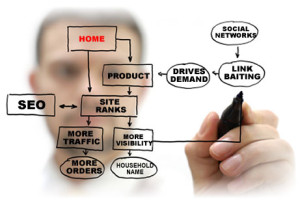 This is of utmost importance and how we establish the relevancy of your web pages in the eyes of leading search engines.
If you have gone so far as getting your business online it makes sense to make yourself easy to find.
Once a search is made for a product or service a search engine will process it by comparing the words in the request with the pages in its database.
Since it is likely that more than one page , and probably millions of pages , could contain the words entered the search engine will then calculate their relevancy.
It will then retrieve the results and display them ranked in the order of importance it places them.
Search Engine Optimisation helps rank you above your competitors by making search engines see your site as 'more relevant'
These optimisation strategies are just a few of the strategies that can influence your website's rankings within the search engine results pages.
Keyword Research

Effective and relevant keywords are the cornerstone of search engine optimisation (SEO) and search engine marketing (SEM).
Every website developed for profit must revolve around carefully chosen and strategically placed keywords.
Page Content

The creation of original content on your website is one of the most important on-page search engine optimisation strategies.
Page content that is detailed and unique to each individual page with relevant keywords interspersed throughout will have a significant advantage in being deemed relevant by the search engines
Title Tags

Search engines consider keywords found in your title tag to be extremely important. They literally tell the search engine what your web page is about and are what the search engines use as your web pages link in the search results.
Web Pages

The amount of pages on your website increases the content on your site, which, in turn increases the various page titles that contain relevant keywords about your services.
Increased web pages allows you to dedicate whole pages to your most important services, which enhance the search terms that can be indexed.